The sixth theme covered in our Helping Communities Thrive campaign is 'People'.
Men & Boys, Women & Girls and Young People & Children – among these sub themes the Foundation has supported more than 355,000 individuals over the past five years, awarding £2.3m to 689 projects in the West Midlands and Warwickshire!
From community initiatives to tackle loneliness in men, to crucial support for women affected by domestic violence, to programmes challenging gang violence in young people, the Foundation's grants have supported people affected by gender injustice as well as creating opportunities for our future generation.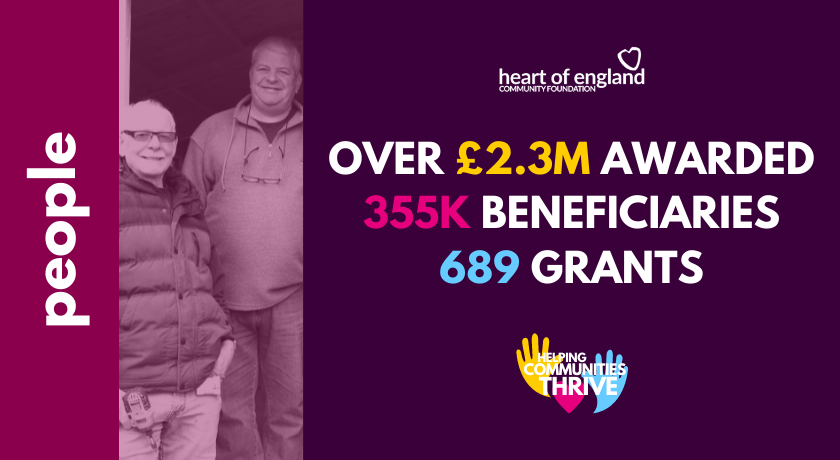 Men & Boys.  
In the last five years the Foundation has worked with 11 projects solely supporting issues around men and boys in the West Midlands and Warwickshire, that's £30,475 invested into our communities. With 1,000 beneficiaries; 45% of the grants awarded have supported issues surrounding mental and physical health.
Men In Sheds tackles loneliness and isolation amongst a group of local men. The Foundation awarded them £2,000 toward the purchase of their new lodge. Read more.
Women & Girls.
The Foundation has funded 80 projects focused on women and girls, benefitting 44,000 individuals, investing £345,832 into our local communities in the last five years. 8% of these grants has supported issues surrounding domestic violence.
One group to benefit from funding were Happy Mamas Solihull, a support network for new mums, they were awarded £2,000 to enable the continuation of their Walk & Talk sessions over the pandemic. Read more.
Christine McNaught on HoECF.
Christine McNaught, CEO of Foleshill Women's Training, talks about her organisation and the relationship it's had with the Foundation for over 20 years.
Foleshill Women's Training offer a culturally sensitive and appropriate place for all women to access Education, Training, Healthcare and Employment Opportunities, enabling their service users to be empowered. The Foundation has collectively awarded the organisation almost £100k, supporting women in Coventry.
Children & Young People. 
The Foundation has funded some amazing organisations supporting our younger generation. In the last five years we've supported 596 projects and distributed more than £1.9m, improving 310k young, local lives.
The Challenger Trust works with schools to help young people fulfil their potential, the Foundation gave them a £12,000 boost to support their ongoing work with tackling the cycle of gang crime in the West Midlands. Read more.