Towards a fairer, happier and healthier Midlands.
We are the Community Foundation for the West Midlands and Warwickshire. As the leading, independent grant making foundation in the region we have proudly awarded over £35 million to over 7,000 great causes since 1995.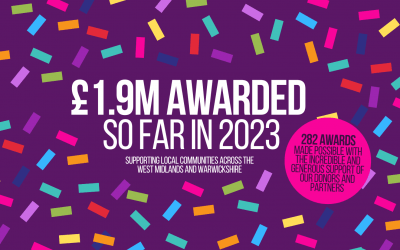 Dear Friends and Partners, As we move into winter, it's the perfect time to take stock of our impact across the Midlands. Guided by our vision for a fairer, happier, and healthier community, and propelled by our mission to connect donors with impactful initiatives, I...
read more
The Inclusive Communities Fund
Apply for a grant from the brand new £9million Inclusive Communities Fund to bring your community together and tackle the issues that matter to you and your community.
Looking for grants and funding for your initiative, project or organisation?
Discover our latest available grants and funding programmes. We manage a range of funds on behalf of our donors across the region with grants ranging from small amounts to some larger grants.
Supercharge your giving through the Community Foundation.
We're honoured to partner with a diverse range of donors, including private individuals and prominent regional and national companies. Each donor's journey is unique, and we're committed to making that journey as seamless and meaningful as possible.