The first theme covered in our Helping Communities Thrive campaign is 'Disadvantages'. It's a large theme and you could say all our grants support disadvantages in communities but we've narrowed it down!
Crime & Safety, Employment, Training & Education and Poverty – among these sub themes the Foundation has supported more than 600,000 individuals over the past five years, awarding £5m to 681 projects in the West Midlands and Warwickshire!
From youth groups to homeless shelters, training centers to workshops, the Foundation's grants have put people on the straight and narrow, moved people forward in their careers and kept people alive with vital essentials.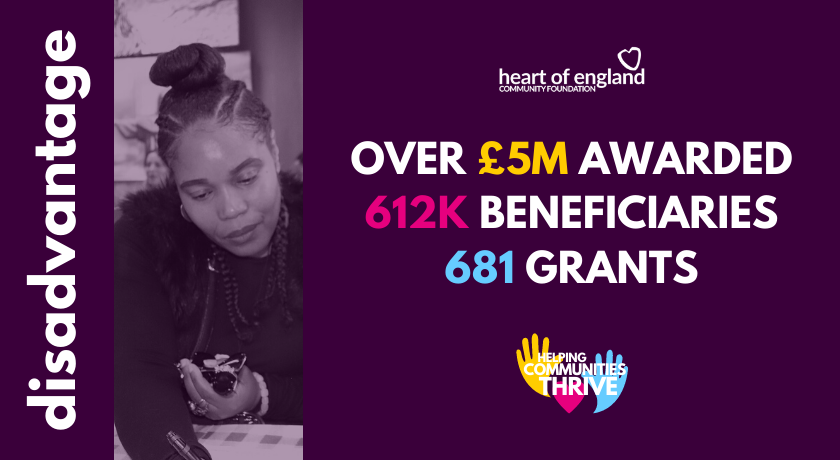 Crime & Safety.  
In the last five years the Foundation has worked with 69 projects solely supporting issues around crime and safety in the West Midlands and Warwickshire, that's over £225,000 invested into our communities. With over 17,000 beneficiaries; 10% of the grants awarded have targeted gang related issues.
One group to benefit is Recre8now,  receiving grants from the Wesleyan Foundation Fund, they've worked with young girls in Birmingham to create Community Change Agents.
Poverty. 
Poverty comes in all shapes and sizes, the Foundation supports some amazing organisations dealing with homelessness, deprivation and addiction. In the last 12-months alone the Foundation has worked tirelessly battling poverty in communities exasperated by COVID-19.
In recent years we've supported over 350 organisations and distributed more than £1.5m for issues surrounding poverty. In 2017 we supported God's Coffee Shop with a grant of £1,491 with that award they were able to run a pop-up cafe supporting homelessness in Coventry city centre. Read More.