Reflections from our Annual Celebration Evening 2023
Last night, we had the privilege of hosting our Annual Celebration Event at the IM Properties Headquarters in Solihull, and I'm excited to share some highlights from the evening.
The event held particular significance for me, as it marked ten years since I took the reins as Chief Executive of Heart of England Community Foundation. I vividly remember my first annual celebration, filled with nervousness and anticipation. As I addressed the audience last night, I realised how much I've grown in confidence, assured in large part thanks to the unwavering support of our donors, and the support of my team and Board of Trustees.
I'd like to express my sincere gratitude to everyone who joined us last night. The evening would not have been possible without the extraordinary efforts of the IM team, who went above and beyond to host us in their beautiful headquarters and make the evening magical! 
Our Annual Celebration is first and foremost a tribute to our donors, supporters, and, importantly, the incredible organisations and groups that work tirelessly to benefit others. It's a night to celebrate their unwavering commitment to making the Midlands a happier and healthier place for all of us.
Our partnership with IM Properties is one that resonates deeply with our mission. It was a pleasure to recall my first meeting with David Smith and his team to discuss their commitment to social value and how our foundation could add value to their work. They understood the importance of investing at the local level and supporting local communities. Over the years, our partnership has flourished, resulting in meaningful impact in different parts of the Midlands.
We had the pleasure of hearing from Alicia Grande from the Community Environment Trust, an organisation that received its first grant from us back in 2014. They work to empower communities to protect, promote and enhance green spaces through innovative educational programmes, community engagement and volunteering. The journey they've embarked on shows us the importance that local organisations play in the places we live and work. I'm sure Alicia's speech helped us all to reflect on how our support can help to make a difference locally, especially when connected through generous donors like IM Properties.
You can watch this short video to find out more about their work and about our work with the IM Properties team
During the event, I shared some key highlights from across our year, celebrating our achievements and acknowledging our challenges. Our impact in 2022-2023 included distributing £2.5 million through 1700 awards, benefiting an estimated 400,000 people across our region. Each grant, averaging £3,786, represents a real lifeline for the community especially given the turbulent time faced by small charities and voluntary organisations. An impressive 82% of these grants were awarded through external decision-making panels, ensuring transparency and genuine community involvement throughout our grantmaking process. 15% of our grants were awarded to new applicants, expanding our reach and impact.
Our long-term investments have reached £19 million, contributing to the sustainability of the foundation. We've taken significant steps to secure new endowed funds, such as the dormant charitable assets of Coventry City Council, which will benefit communities across Coventry for years to come. 
You can read more about our impact during the last year, by downloading our Yearbook here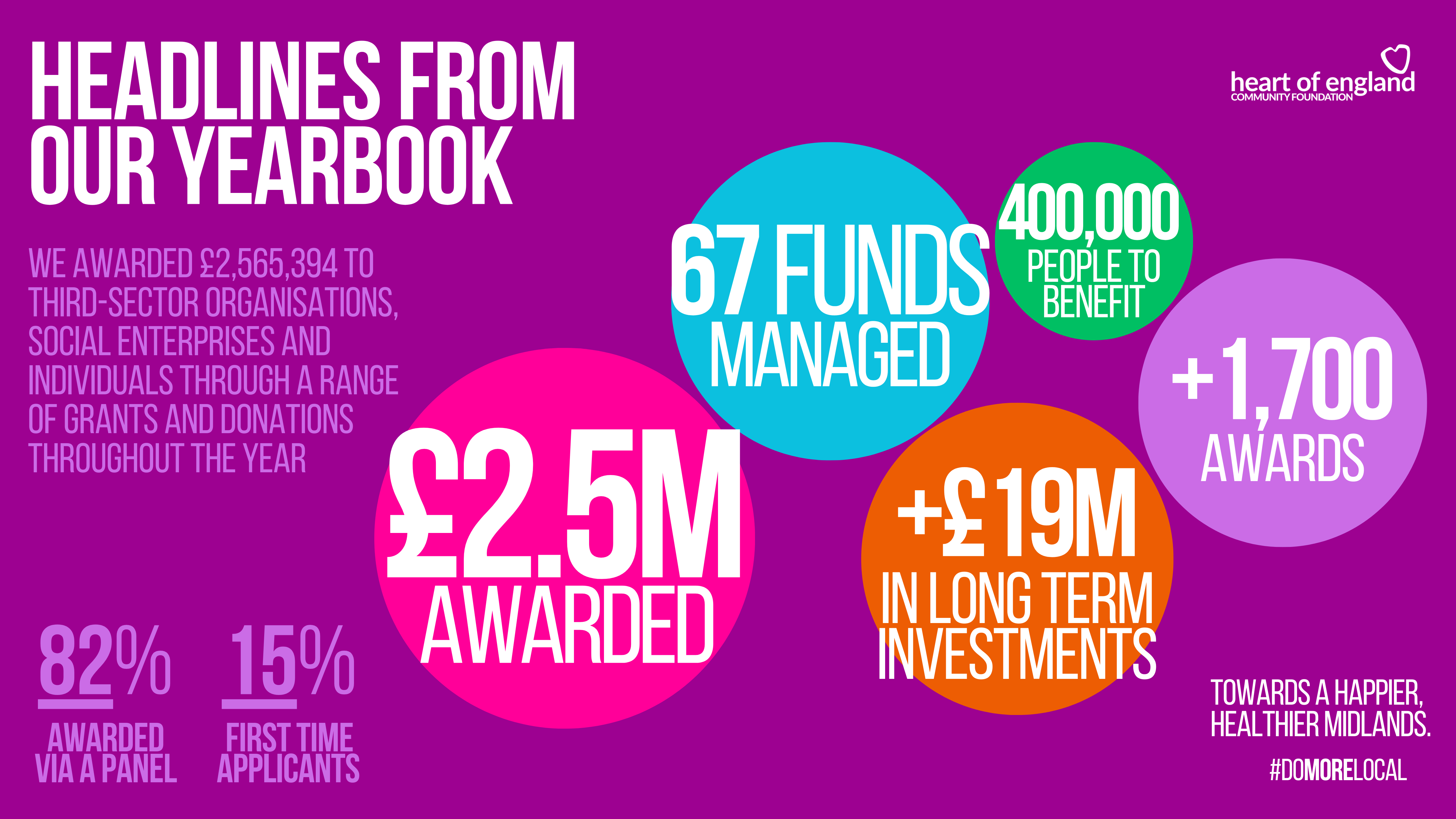 Our foundation's journey has been enriched by many generous and committed donors and fund holders. I want to express my gratitude to all of you who choose to work with us, entrusting us to deliver your funding effectively. We've been fortunate to maintain our existing donors while also developing partnerships with new ones who see the value of our collaborative approach.
As we look forward, we're in the final year of our current three-year strategy, and we're already considering what to bring into our new strategy. We've had our share of challenges, most notably recruitment in a changing post-COVID labour market. But we're also focused on continuous improvement, ensuring we remain credible, relevant, forward focussed and impactful.
One of our significant priorities is growing our endowment to ensure long-term sustainability. Over the coming years, we will double down on this commitment, with renewed focus on drive towards growing charitable giving and philanthropy across the region. We aim to establish relationships with professional advisors and wealth managers to offer viable options for those who want to make a difference without the burden of governance and administration.
I shared a powerful video on behalf of Caldmore Community Festival in Walsall, who received a grant through the WMCA Green Grants scheme, administered by the Community Foundation. The short film, really brings home a sense of community and belonging. Caldmore Community Garden has been able to support local residents to access new green spaces, especially for those who live in the surrounding flats and houses and lack gardens of their own. Through a series of engaging educational programmes the group has ignited a passion for gardening, helping local people nurture deeper connections with the natural world. You can watch the short film here
Our evening concluded with a heartwarming performance by the Northern Star Community Arts ukulele band, a local community organisation. Organisations like Northern Star offer real hope, warmth, friendship and connection within communities and it was an endearing and cheerful moment to share with our key stakeholders. 
Once again, I extend my heartfelt thanks to our donors, supporters, the communities we serve, IM Properties for their hospitality, our board of trustees, and our dedicated foundation team. Your unwavering support and commitment are what make our work possible. I hope that everyone who attended enjoyed the evening, and that you left with a deeper understanding of the impact the Heart of England Community Foundation creates in our communities. It's a testament to the power of community.
Warm Regards, Tina Costello, Chief Executive
Please view and enjoy the photos taken by Jas Sansi from our Celebration Evening here