We've supported some amazing organisations during the Covid-19 pandemic, these are just few testimonies from people who have really benefited from grants provided.
Northfield Stroke Club
"As a carer I'm very concerned that I may catch the virus if I'm out in the supermarket and we don't have family nearby. I'm so grateful to Northfield Stroke Club volunteers for getting shopping and medicines for me and my husband. It's all done with a smile and a quick chat from the end of the drive just to make sure we're OK. They're priceless."
Karis Neighbourhood Scheme
"The food bag was amazing, it's been sad not to see anyone, but making soup with the vegetables, has used up some time to prepare something I wouldn't normally make, thank you!"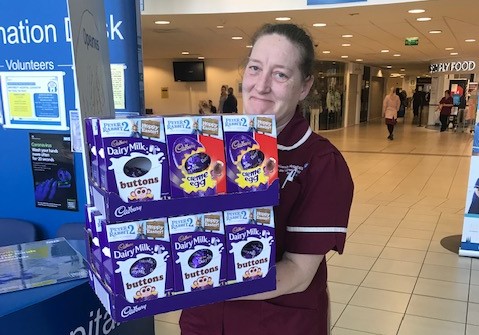 Healthy Living Network
"I have had my delivery today, it's incredible, I'm so, so grateful. I've fresh vegetables, and all this other wonderful food. So, to you and your team, a huge thank you, everyone who makes this possible it's incredible, the people who donate and the delivery drivers are such a lifeline. Please, please, let them know how much we appreciate it."
Carries of Hope
"Thank you ever so much for the toiletries and food. I really appreciate it. The kids are enjoying their books and toys. My whole house is isolating because I've got two vulnerable children and one girl with poor health conditions. Thank you for your help. Means a lot to me and my family."
Elayos
"My baby was taken into care shortly after I had him. I was feeling really low and because I live by myself I was tempted to go out and get something to numb the pain that I was feeling. But everyday someone from Elayos has called me to see if I was ok. They've even bought me some food round. Without them I wouldn't have spoken to anyone for weeks"
St John the Divine
"Good morning. I must message you to say what a fantastic food parcel I received. I just expected basics what a great surprise, I need to say a big thank you to everyone who gives, helps and delivers these parcels. I feel privileged to be living in such a wonderful community area where kindness, help and comfort are at the forefront. I'm not sure how I can ever repay such kindness from you all. God bless you and keep you all safe and well."
The Oak Unlock and Open Project
"Thank you so much for the large print book, my folks are main carers to my brother. After five weeks with no respite they really appreciate this thoughtful gift. So kind, thank you, keep up the fantastic work in this challenging time."
Balsall Heath CATS
"My God! I can't believe my eyes. I'm so blessed to have come in contact with CATS. Thank you so much for looking out for us in this challenging times."
If you'd like to support the Coronavirus Resilience Fund please click here.
If you'd like to apply for a grant please click here.