In December 2020 following the launch of the Winter Wellbeing campaign, Solihull Council teamed up with the Foundation, adding a new strand to support the region over the COVID winter.
The Solihull Winter Wellbeing & Recovery Fund is supporting community and grassroots organisations in Solihull who are responding to issues caused by COVID-19. Grants of up to £5,000 are being awarded, focusing on one or more of the following: food or fuel poverty, social isolation, physical or mental health, digital inclusion, supporting self-isolation and finally, organisational resilience and sustainability. 
With both parties delighted to have kickstarted this partnership Solihull Council have allocated £200,000 to the fund, over £120,000 has already been distributed and grants continue to be awarded!
Councillor Alison Rolf, Cabinet Member for Stronger and Safer Communities, said:
"It's fantastic news that after establishing this new fund just a few weeks ago, we're already providing vital grants to some truly fantastic organisations who can help their local communities this winter.

Tina Costello, Chief Executive at the Foundation, said:
"We're thrilled that SMBC have chosen to work in partnership with the Foundation to deliver their Winter Wellbeing & Recovery Fund.  The Foundation already delivers programmes within the Solihull Borough so we know this funding will be vital to help support communities through the winter months.

"We're so pleased that the Foundation has been able to connect 29 Solihull community groups with much needed support through the fund so far. This financial support will go a long way into improving the lives of the local community during the difficult times ahead."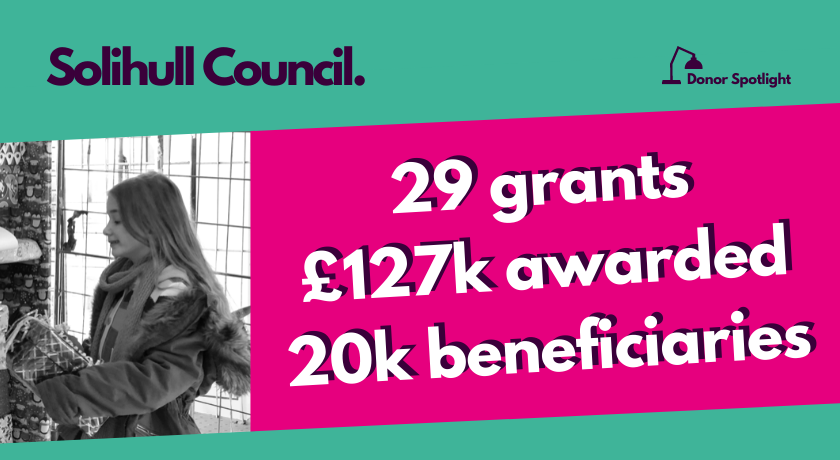 Want to help the Foundation save 1,000,000 local lives?