The second theme covered in our Helping Communities Thrive campaign is 'Environment'. It's important to us that the Foundation is environmentally conscious by supporting community groups that create positive, environmental change whether that's through education or action.  
The Foundation has supported 174,000 individuals over the past five years, awarding £980,000 to 55 projects in the West Midlands and Warwickshire! From community projects saving bees to gardening projects that boost wellbeing, the Foundation's grants have covered a variety of projects that benefit local lives as well as the Earth.
Part of the Foundation's 3-year strategy is to ensure it's partners hold the same ethical values. For example, the Community Energy Warwickshire Fund supports groups making energy efficiency improvements to their organisation.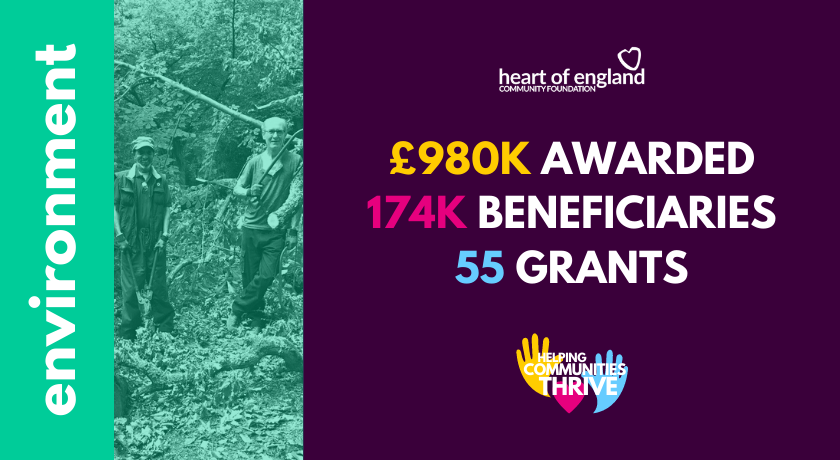 Saving flora and fauna.
We've supported Forest of Hearts with several grants totalling £7,500! This supported their work to save the bees as part of their Bee Line Project, promoted health and wellbeing through their Green Therapy Sessions, and enabled them to help vulnerable people in the community.
This year they're on track to planting 2,021 trees, creating wildflower meadows, continuing to improve the wellbeing of vulnerable people and much, much more!
Carole Longden from Forest of Hearts said:
"We work with vulnerable local people to increase confidence, skills and wellbeing by creating edible gardens which build biodiversity and provide beautiful and accessible green spaces for all to enjoy.

"We need to develop sustainable ways to protect our planet for generations and by investing in tree planting, garden and habitat creation and developing the skills and awareness of the local community to save and maintain precious habitats that will sustain generations to come.

"We want local funders to support our projects to bring benefits to local people, the planet and to gain a greater return on their social investment."
Creating community spaces.
The Foundation understands that community spaces can be found anywhere, and the Coventry Tree Warden Network who plant, protect  and celebrate trees in Coventry were given a £2,000 boost to educate local people and recruit new members as they attempt to turn a neglected piece of history into a thriving community space. Read more.
Boosting community activity.
In 2020 we supported Ampersand Projects: Grow Your Road with a £3,000 grant that gave people in Birmingham the tools, skills, and community support to grow their own vegetables at home. The project was so successful that they decided to deliver it again this year with a £4,000 boost from the Foundation! Read more.