Our final theme covered in our Helping Communities Thrive campaign is 'Culture'.
Racial & Cultural Integration, Arts & Culture, and LGBTQI+ – among these sub themes the Foundation has supported more than 205,085 individuals over the past five years, awarding £928k to 268 projects in the West Midlands and Warwickshire!
From festivals aiming to integrate different cultures, to projects supporting the arts, to helping vulnerable refugees and asylum seekers, the Foundation's grants have supported crucial projects and celebrated different cultures in the region.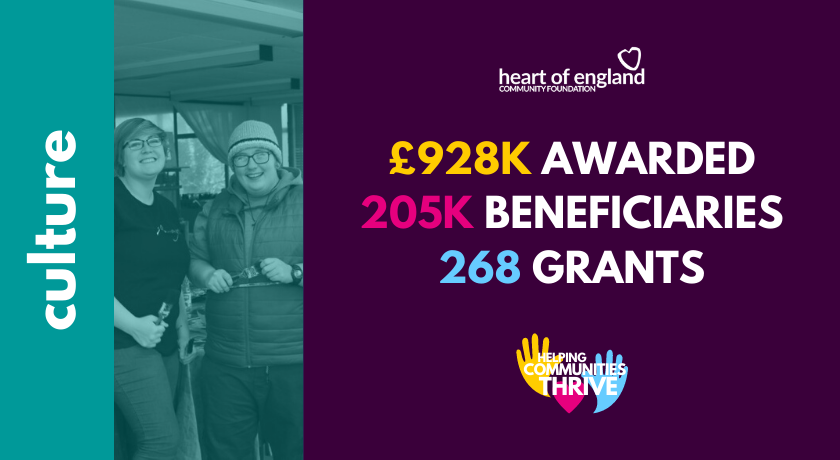 Racial & Cultural Integration.  
In the last five years the Foundation has worked with 151 projects solely supporting issues around racial and cultural integration in the West Midlands and Warwickshire, that's over £534k invested into our communities. With 56k beneficiaries; 23% of the grants awarded have supported refugees & asylum seekers.
Following a grant of £5,000 from the Foundation's Coventry City of Culture Fund the city's first iDENT Festival, which was hosted at Warwick Arts Centre, was able to take place! We caught up with the event's organiser, Nyasha Pitt, who reflected on the successful day. Read more.
Arts & Culture.

The Foundation has awarded over £370k to 103 arts & culture projects in the last five years, supporting 127k local lives. 36% of grants awarded have been in Coventry.
'A Bigger Weave' were awarded a grant of £4,000 from the Foundation's Coventry UK City of Culture Fund to help connect communities and get them actively involved in art projects. Read more.
LGBTQI+. 
The Foundation would like to encourage organisations supporting the LGBTQI+ community to apply for funding! In the last 5 years, we've awarded £22,770 to 14 projects solely benefitting the LGBTQI+ community, with a total of 21K beneficiaries. 37% grants supported projects in Birmingham.
Micro Rainbow CIC, an organisation supporting LGBTI refugees and asylum seekers, received a £3,000 grant from the Foundation's Coronavirus Resilience Fund to support the running of their safehouses in Northfield, for vulnerable residents over the pandemic. Read more.