Coventry UK City of Culture Fund
Having won the title 'UK City of Culture 2021' the Coventry City of Culture Trust is keen to support existing and potential partners as they seek to play a full and active role in the run up to 2021.
Unfortunately this Fund is currently closed.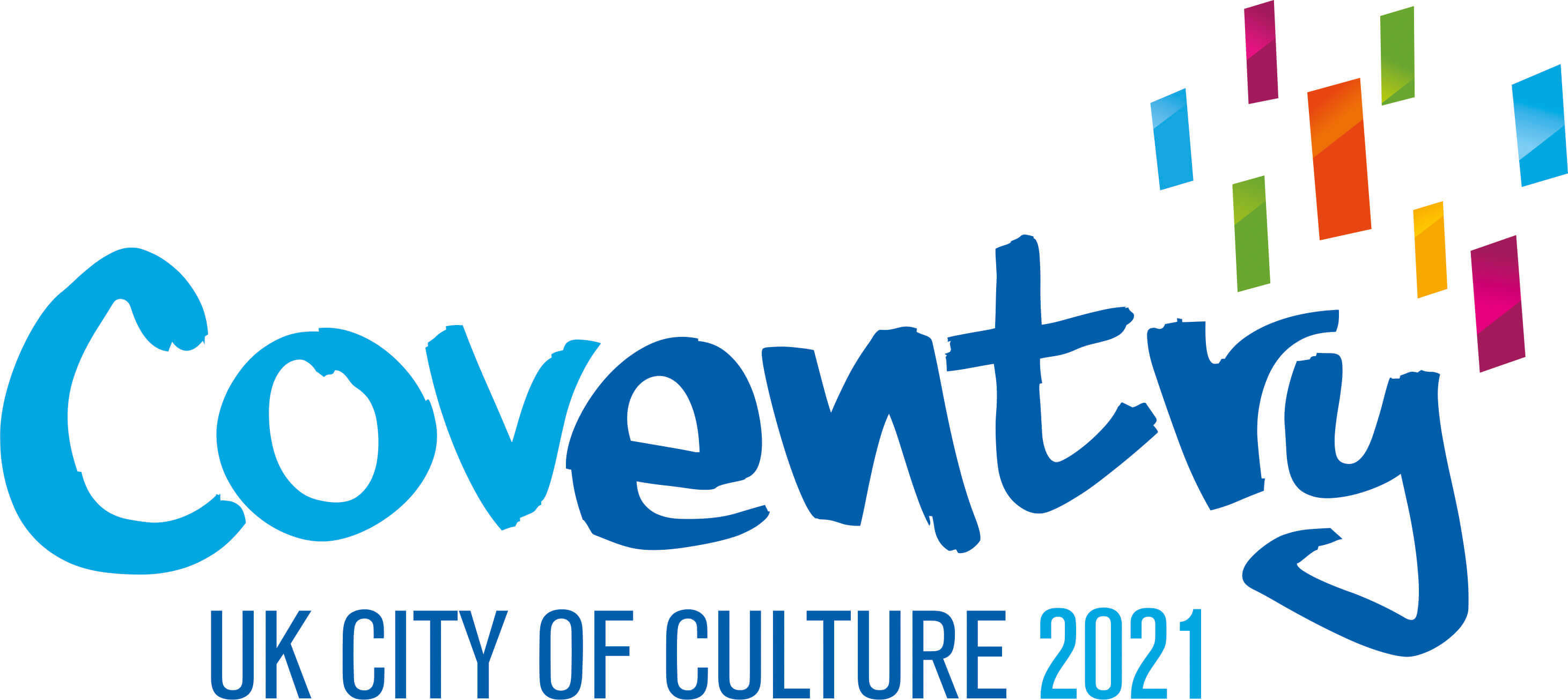 Available funding
In 2018, the funding will be split into two tiers as follows:
'Get Ready Fund'
Grants of up to £2,000
– Support feasibility studies or research and development work. – Allow organisations to develop their business plans and promote sustainability. – Provide support for individuals or organisations to access and engage with other work. – Cover costs of training or skills building courses.
'Road to 2021' Fund
Grants of up to £10,000
– Trial project ideas which might ultimately form part of the 2021 programme. – Develop new partnership projects across the sector.
To apply for either fund, please read the following information and navigate to the bottom of this page. 
Who can apply?
Registered Charities and community organisations
Social Enterprises
Individual artists (or those working within an artistic / cultural setting, e.g. sound technicians).
Additionally
You should have an income of under £250,000 per annum.
Organisations who apply should have a management committee of at least three members who are unrelated.
Activities must be taking place within a 'CV' postcode area. We will prioritise projects working in areas, or with communities, covered by Coventry City Council.
Applicants must evidence that their project has secured additional funding; this can be services in kind, sponsorship etc. as well as other grants and should be listed as part of your project budget e.g. Venue Hire provided free but valued at £15@ hour'.
This fund is specific to the development of Coventry's UK City of Culture year in 2021. We are unable to fund:
Existing events that are lacking core funding for 'business as usual'
Any project which is discriminatory in any way
Projects without clear link or benefit to Coventry
Projects that do not include a clear cultural element (i.e. sporting tournaments)
Capital projects
Coventry has played a unique role as a city of sanctuary, peace and reconciliation, with a history of welcoming refugees and migrants from across the world. In a post-Brexit Britain which has divided cities and nations, we will reinforce the power of culture to cross boundaries, create understanding, nurture respect and embrace humanity.
To be eligible to apply to this fund your project must meet the Coventry 2021 themes, vision and step changes as follows: 
Coventry 2021 step changes
1) Culture driving the economy
Create new jobs
Increase visitor numbers & spend
Increase continuation of creative industries
2) Culture closing the gaps in participation and engagement 
Local people experience at least 3 events & 50% of programmes reach schools & communities
Create trained culture reps
Opportunities for co-creation & participation
3) Culture building bridges: diversity & equality 
BAME, Young & Disabled people represented on boards of publicly funded cultural institutions
Increase in out of school engagement for disadvantaged children in key wards
Involve NEETs & BAME in audience & delivery
4) Culture underpinning the health of the City
Increase in cultural commissions to help address mental health & obesity
Increase in physical activity to improve health
5) Culture takes pride of place – recognition and legacy
Increase in neighbourhood & city centre satisfaction
Increase in active volunteers & residents
Increase in graduate retention
About Coventry 2021
Coventry has won the title of UK City of Culture for 2021. It's time for our city to take centre stage and show the world all that Coventry has to offer.
The activity is being run by Coventry City of Culture Trust, an independent charity that has been set up to manage the process and take the city on this exciting journey.
Coventry City of Culture Trust has appointed Heart of England Community Foundation as its grant making partner.
To find out more information about our targets for step changes please visit: www.coventry2021.co.uk/bid and read pages 8, 9, and 10.